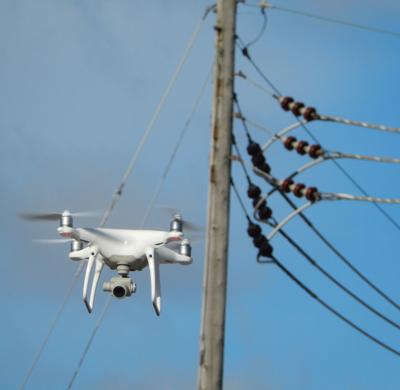 Unmanned aircraft systems have been used for warfare for almost 170 years, but drones likely became more familiar to the public after their use in 2001 combat strikes against the Taliban in Afghanistan. In 2006, the FAA issued the first commercial drone permits, which allowed recreational use and prompted businesses to find applications for them.
So far Santa, and Amazon, haven't started using drones to deliver package, though the online retailer's CEO said in December 2013 that it would be within 5 years. However, the photo capabilities of drones have all sorts of business benefits.
Indiana Michigan Power has been using drones to inspect transmission lines for about 11/2 years. It did so again in Fort Wayne earlier this month. The drones, used by a contractor from Ohio, can hover above the lines, said Tracy Warner, an I&M spokesman.
"The drones are safer," Warner said. "There's no need for a line mechanic."
Drones are a supplement to the utility's inspection program, which include some by people in helicopters and others from someone walking up to a pole to check for structural integrity.
However, like farmers and agricultural consultants, pilots must have Federal Aviation Administration Part 107 certification. Commercial operators must prove they know the rules for proper use, pass a knowledge test and register their drones.
Paris McFarthing, owner of Phil's Hobby Shop in Fort Wayne, took the FAA test in September 2016 at Ivy Tech Community College of Indiana. All the seats were filled, he said. The test focused on weather and flight space, he said.
"Drones are like vehicles," McFarthing said. "They can be inexpensive to as much as you want."
Phil's has drones with cameras for sale on Amazon for $200 and $280.
"It's a great hobby," McFarthing said. "You just have to be responsible."
Drones can't be flown over people's heads, and they're banned from some areas where they cross into airspace.
Drones can't be flown in state fish and wildlife nature preserves, which has forbidden the use of motor aerial devices for a long time, said Ginger Murphy, deputy director for stewardship for Indiana state parks and reservoirs. It's to protect the security and safety of visitors as well as to prevent any impact on wildlife, she said. However, the state will issue a license in some situations, such as for marketing by a convention and visitors bureau or for scientific research.
Chuck Reddinger, deputy director of recreation for the Fort Wayne Parks Department, said use of any remote-controlled devices in city parks also need prior approval.
"Drones have made it a little more complicated," he said.
For instance, one of the FAA rules says you can't fly a drone within 5 miles of an airport, but both Parkview Health and Lutheran Health networks have helicopter pads that could be considered airports, he said.
The parks department has used drones for marketing purposes.
"It's a great technology, and it's fun," Reddinger said. (…But) "we want people to be safe."
Drones have been used by Indiana police departments. The Fort Wayne Police Department set up an Unmanned Air Support unit with two drones in August 2017. The following October, the department's drones hovered over a derailed train on South Anthony to examine the damage. The drone also flew around a house near Parkview Field where police mistakenly believed a robbery suspect was holed up.
In September, the Noble County Sheriff's Department used infra-red drones to pick up the heat signature of a 78-year-old woman who had been missing for 12 hours inside Pokagon State Park in Steuben County.